Foundation Inspections
Do you have cracks in your brick exterior or interior walls?
Do you have doors that stick or do not shut at all?
Do you see cracks in your foundation or floors that tilt?
Do you need an engineer for FHA, VA, or HUD financing?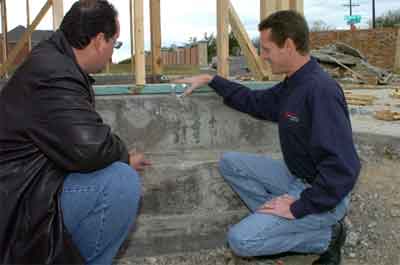 These are all signs of possible foundation movement, and you should strongly consider having your home inspected by a professional engineer.
Our engineers at Enclad Structures have performed over 3000 foundation inspections in the Dallas/Fort Worth metroplex. We are not affiliated with any builder, contractor nor insurance company. Our mission is to provide innovative and cost effective engineering solutions to maximize our client's property value.

All of our foundation evaluations follow guidelines as set forth by the Texas Section of the American Society of Civil Engineers (ASCE). During your initial contact with Enclad Structures, we will help you determine the appropriate Level of Investigation to fulfill your objective (Level A, or Level B).
Level A Foundation Inspection
Size (Sq Ft)
Slab-on-Grade
Pier & Beam
Under 3500

$350

$400

3500 - 4500

$400

$450

Over 4500

Call for a Quote
Level A: This is based upon the engineers first impressions of the performance of the foundation. A report will be furnished with conclusions and recommendations that will not imply any higher level of evaluation has been performed. Most often this level suits the real estate professional (agent or mortgage lender) who's home loan is being jeopardized by a less qualified inspector or appraisal asking for a structural engineers evaluation. See a sample foundation inspection report.
Level B Foundation Inspection
Size (Sq Ft)
Slab-on-Grade
Pier & Beam
Under 3500

$550

$600

Over 3500

Call for a Quote
Level B: In addition to visual observations, a Relative Elevation Survey is performed. Digital readings are taken across the foundation to determine locations of the foundations settlement, or upheaval. If required, a design plan of repair is furnished for you to submit to foundation repair contractors. This level typically is recommended for homeowners currently experiencing foundation problems.
Manufactured Housing: Enclad Structures also performs structural inspections of manufactured homes for FHA mortgage transactions and HUD compliance. The fee for this service is $300.

Call today for an appointment: 469-556-2497
Or send an Email to: info@encladstructures.com
We are available to you 24/7